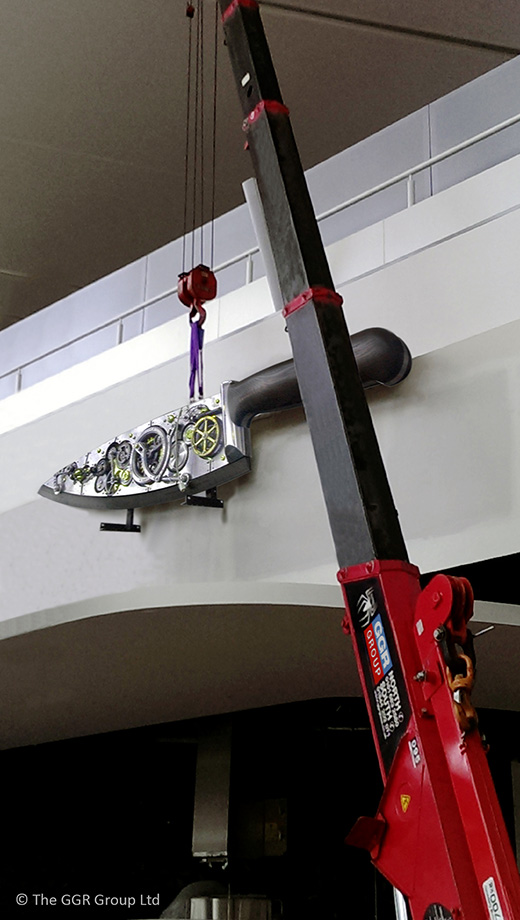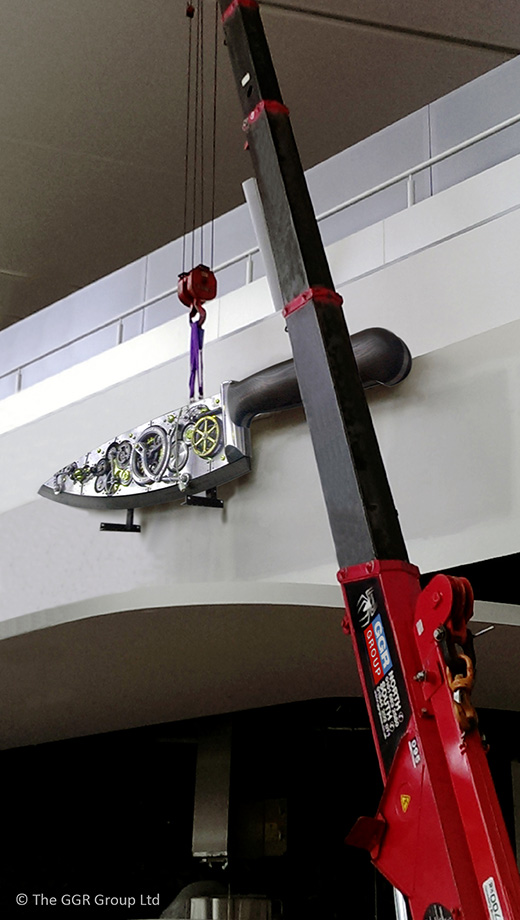 GGR Group proved that we are perfectionists when it comes to challenging lifts when we helped install a moving clockwork sculpture at Heston Blumenthal's new restaurant at London Heathrow Airport, The Perfectionists' Café.
A UNIC URW-095 mini spider crane and a team of GGR operators had their work cut out for them when they were asked to lift a 3.2 metre mechanical knife sculpture designed by Rob Higgs at the restaurant on an upper level in the new Terminal 2 departure lounge.
Appearing as part of the sign above the award winning chef's restaurant, the "Clockwork Knife" took 10 weeks to create, weighed 200kg and included cogs, gears and a moving metal blade. The Perfectionists' Café serves some of Britain's favourite dishes and offering travellers fantastic food…fast, including Heston's famous liquid nitrogen ice cream, to jet setters flying from Heathrow.
The 0.995 tonne mini crane was tracked through the airport terminal and thanks to its compact 600mm width when stowed it could be moved up to the restaurant in the goods lift. An LPG powered mini crane was chosen for this job so only non-toxic fumes were released inside the airport.
After completing a test run to the make sure that webbing slings were in the right position to keep the knife balanced during the lift, the artist was happy for the job to go ahead. The crane carefully lifted this valuable piece of artwork to a 6.5 metre height by the crane, ready for the installation team on an access platform to fix it into place.
GGR were able to get the mechanical knife installed over one night in the nick of time for the opening of the new Queen's Terminal. You could say this job ran like clockwork!
GGR's range of restricted access lifting equipment is often used around London Heathrow airport, for example recently we have installed display screens with a UNIC URW-506 crane and fitted shop front glazing to Terminal 2's Harrods store with an Oscar 1000 glazing robot.
Our UNIC mini spider cranes have been used to help install other works of art such as a horse sculpture in Trinity Leeds shopping centre, a statue of Yayoi Kusama outside Selfridges department store and other sculptures around the UK.
For more information about hiring UNIC mini spider cranes, contact your nearest depot today.
Trackback URL: https://www.ggrgroup.com/news/ggr-get-slice-action-hestons-new-heathrow-restaurant/trackback/