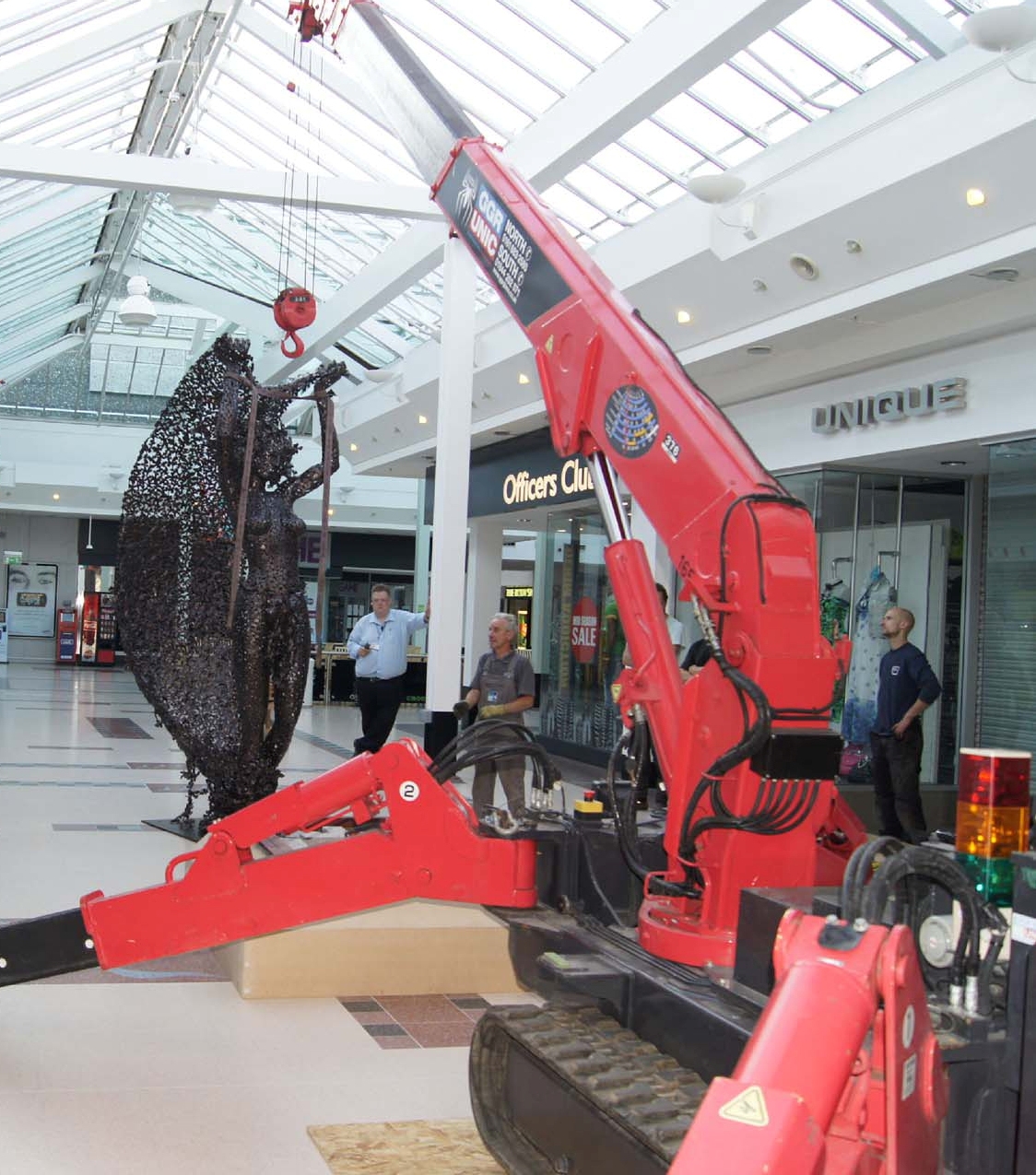 Unic mini cranes are not only practical material handling machines for use on a construction site, they are also perfect for performing lifts with a little artistic flair. Here's how a number of our mini crane models helped create art by lifting sculptures into place for exhibitions around the world.
A Unic URW-376 mini crane was hired to help bring a bit of Ancient Rome to the Oak Mall Shopping Centre in Greenock town centre, Inverclyde. 'Egeria the Wood Nymph', a galvanized steel statue created by Glaswegian artist Andy Scott, was carefully lifted to an upright standing position by our compact crane which had no problems making its way inside the shopping mall for this job.
An out-of-the-ordinary sculpture by Thomas Houseago was lifted onto a plinth outside Oxford's Ashmolean Museum by the popular 2.9 tonne capacity Unic URW-295 mini crane. This precision controlled crane quickly and safely lifted the abstract figure of a man made out of plaster, wood and metal rods for the artist's solo exhibition in this country.
To help create a bronze and steel sculpture of a helmet at the world-renowned Biennale International Art Exhibition in Venice, artist Arturo Casanova called in a Unic URW-506 crane with a 3 tonne lifting capacity. The mini crane erected the construction's 8 metre tall steel frame with ease and worked through the night to fit 150 metal plates over the structure.
A Unic URW-506 was also used to install the 16 metre high 'Entropa' sculpture by artist David Černý in the Czech Republic. Made from steel and reinforced plastic, the giant sculpture made a political statement by including symbols representing of each countries in the EU, which the crane lifted into their individual positions on the frame.
The largest mini crane in the Unic range, the URW-706, provided the lifting height required to construct the 12 metre tall Digital Fountain centrepiece at the newly opened Westfield Stratford City shopping centre. The mini crane lifted nine sections to create the impressive tower, placing one on top of the other. Once completed, Jason Bruges' design created the effect of moving, glistening water with the tower's covering of liquid crystal screens.
Thanks to the precise lifting power of our Unic mini cranes, these sculptors could turn their artistic visions into a reality to show to the world!
Trackback URL: https://www.ggrgroup.com/news/a-unic-mini-crane-art-attack/trackback/