What is the tightest space a crane can fit into? Check out GGR's top 10 tightest lifting spots that our mini cranes have managed to squeeze into….
G120 on hotel construction project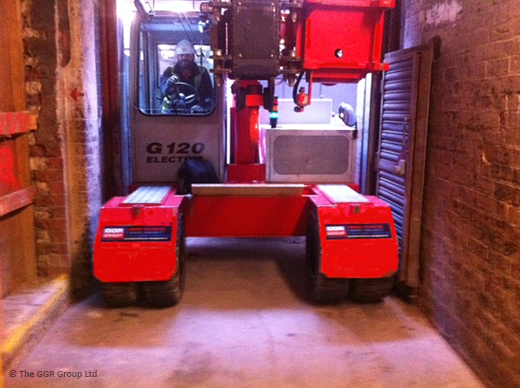 This 12 tonne capacity G120 pick and carry crane was hired to lift a piling machine into the basement of a hotel and as you can see the 2050mm wide machine had very little room to spare as it travelled down this narrow corridor.
G35 between hedgerows
At just 1470mm wide, the G35 pick and carry crane was narrow enough to squeeze through these neatly pruned hedgerows without causing any damage. The 3.5 tonne mini crane was hired to remove a 1.5 tonne decommissioned transformer.  Read more
UNIC crane works on luxury Dubai homes
This UNIC URW-295 spider crane travelled down this narrow passageway to gain access to the homes it needed to help glaze on the Emirates Hills complex in Dubai. This 2.9 tonne crane has a 600mm wide chassis so was just about able to squeeze down this track which was only 650mm wide in parts.
Glazing at Ripon Cathedral
A 600mm wide UNIC URW-095 mini crane had no problems making its way inside Ripon Cathedral to install glazing to its new entranceway.
UNIC crane at Nantes Cathedral
This white 6 tonne capacity UNIC URW-706 crane was hired to lift a new altar, pulpit and bishop's seat at Nantes cathedral in France. With a chassis width of 1670mm when stowed, the crane was tracked through the cathedral doors then down the aisle to reach the lifting location.
Serpentine Green Shopping Centre, Peterborough
GGR's G20 pick and carry crane and MRT4 glass vacuum lifter were hired from GGR to take on a tricky job that other lifting companies had turned down. The crane and lifter combination successfully moved a 1.93 metre by 3.5 metre glass panel through a 2 metre tall doorway at the Peterborough shopping mall.
Edgbaston Cricket Ground
In another example of moving large glass panels through doorways, this Oscar 600 glazing robot carried a 1.9 metre tall window pane through a 2 metre high doorway then up to the venue's conference room in a goods lift. Read more
Scalby Mills waste water works
A UNIC URW-095 mini crane and G70 pick and carry crane teamed up to move this 4 tonne drum inside the water works, through a doorway that was just 40mm wider than the drum itself. Read more
Mini crawler crane at London office
The MCC495 mini crawler crane lifted glass panels using a Hydraulica 1200 lifter at this London office building. The crawler crane's chassis measures in a 2350mm, so could just about fit through a 2.4 metre wide access point and operate in the 2.9 metre wide working area.
UNIC spider crane at university building
With very limited working space available, a 600mm UNIC URW-095 spider crane was able to lift 200kg curtain walling units onto the facade of this new university building using an MRT4 lifter.
So as you can see, if restricted access is an issue on your site then our various compact crane models can offer you a practical lifting solution. For more information about GGR's market leading compact cranes contact our friendly customer services team at your nearest depot.
Trackback URL: https://www.ggrgroup.com/news/top-10-tight-squeezes-compact-cranes/trackback/