GGR's fully qualified team of trainers have been venturing out of our test centres recently, this time to teach military servicemen in Denmark and the UK how to operate our UNIC mini spider cranes.
Our instructor Adrian Richards travelled to the Karup military base in Denmark to train three airmen on how to correctly use their 6 tonne capacity UNIC URW-706 spider crane. This crane was originally sold to NATO by official Italian UNIC mini crane dealers Levo S.r.l, but ended up being passed to the Royal Danish Air Force to carry out essential maintenance and repair work on their fleet of Fennec, Merlin and Lynx helicopters.
Adrian spent three days with the trainees, teaching them the theory behind safe crane operation in the classroom as well as the practical skills they needed. They will be using the mini crane to lift heavy components such as gear systems and rotor blades as well as helicopter blade storage containers.
GGR trainer Robert Ballantyne recently visited RAF Odiham to assess the mini crane operating troops who were working on their NVQ Level 2 in Plant Operations qualifications. After the Ministry of Defence purchased a fleet of 2.9 tonne capacity UNIC URW-376 spider cranes in 2012, cranes were sent to Camp Bastion in Afghanistan and RAF Odiham in Hampshire for British Forces to use for Chinook helicopter repairs.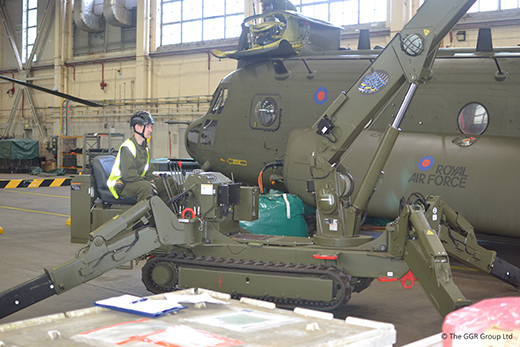 Before the MOD bought their UNIC mini cranes, time was often wasted moving aircraft into the hangar so the overhead gantry crane could be used for lifting operations. Our flexible mini cranes can be used both inside the hangar and out on the flight line so can be easily moved to where the aircraft is.
In total, twenty troops from RAF Odiham have completed their CPCS A66 mini crane training course at GGR's official CPCS test centre in our Buckinghamshire depot.
GGR Group offer two, three and five day training courses for operating UNIC mini spider cranes at our depots in Manchester and Buckinghamshire to suit all levels of experience. Take a look at the Training page of our website to find out more about accredited CPCS A66 mini crane training programmes and click here to register your interest.
Trackback URL: https://www.ggrgroup.com/news/ggr-train-troops-use-military-mini-cranes/trackback/