GGR's 8 tonne MCC805 mini crawler crane has proven popular for the waterways industry where restricted access, limited space and uneven ground conditions are common problems on job sites.
On a recent job, the MCC805 was hired to lift concrete blocks to create a culvert to allow water to flow underneath a road. Thanks to the crawler crane's generous 6.5 tonne pick and carry capacity, the MCC805 was able to lift the three 1.5 tonne blocks from a transport vehicle and down to their installation point.
Selected for this job because of its ability to move over uneven ground, an optional extra for the MCC805 crane is a hydraulic levelling blade on the front of the chassis which evens out any rough terrain and helps to level the crane itself when working on gradients up to 13°.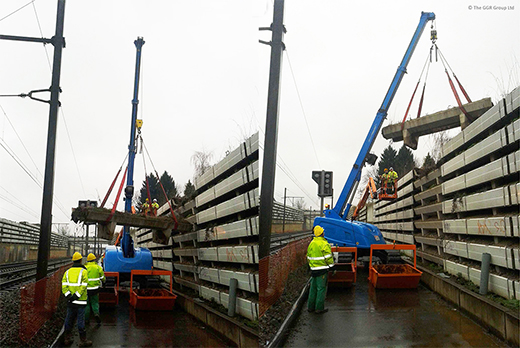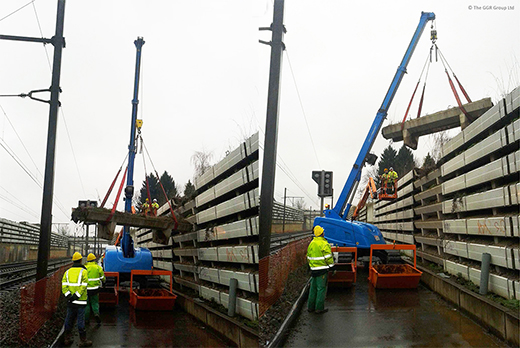 This crawler crane model has also been hired to install coping stones and replace lock gates on UK canals.
Another MCC805 crawler crane worked on more solid ground on this railway job in Belgium, but was required to squeeze down a narrow pathway. The crane was used to lift 5 tonne sections to create a sound barrier wall next to a railway line. At 2500mm wide, this cabless diesel-electric version of the MCC805 crane was able to work in the limited space available so the job wouldn't interfere with passing trains and railway operation.
The MCC805 crawler has proved in the past that it can easily navigate around obstacles and through restricted access areas, like on this transformer lifting job at a UK substation.
Read more about our compact and powerful MCC805 crawler crane here. For more information about hiring a mini crawler crane from GGR Group please contact our customer services team at your closest depot.
Trackback URL: https://www.ggrgroup.com/news/8-tonne-compact-crane-lifts-culvert-river-builds-railway-sound-barrier/trackback/