With a new bunch of mini cranes joining GGR's hire fleet, it's Spider versus Crawler! But what's the difference between a spider crane and a mini telescopic crawler crane? Here's how to tell them apart…
UNIC spider cranes have outriggers which look like insect legs, hence the name, but sometimes these cranes are referred to as mini cranes or crawler cranes as they have tracks for easy movement across uneven ground.
Our new range of Mini Telescopic Crawler Cranes are different as they have no outriggers and come with harder wearing off-road crawler tracks which are ideal for working on rough terrain.
Like UNIC mini spider cranes, these mini telescopic crawler cranes are ideal for use on congested construction sites, can be quickly set up and have extendable and retractable telescoping booms which can reach great lifting heights.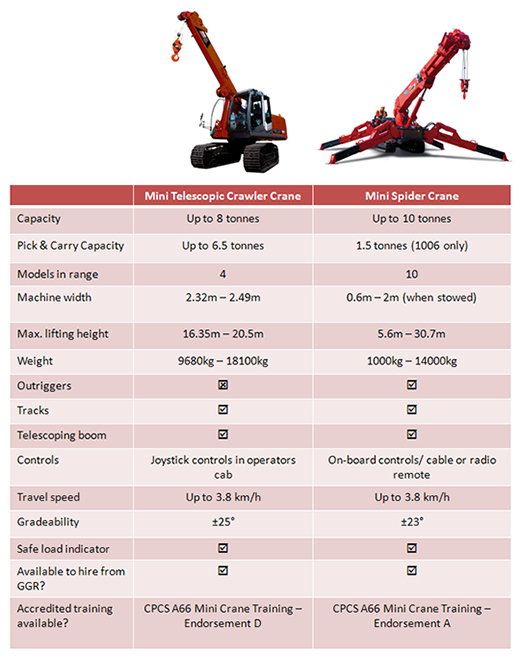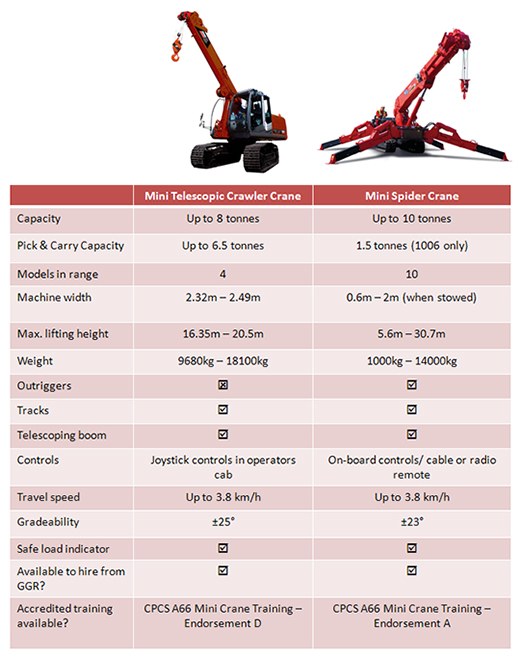 The heavy-duty mini crawlers are popular as they have the added benefit of being able to lift and travel with loads up to 6.5 tonnes, whilst spider cranes don't have this pick and carry capacity.
Here's how the two types of mini crane compare…
GGR has added four models of Mini Crawler Crane to our hire fleet, so our depots are crawling with crawlers! The MCC495 and MCC505 mini crawlers can lift up to 4.9 tonnes whereas the higher capacity MCC804 and MCC805 models can handle 8 tonne loads.
Our brand new telescopic crawler cranes have already worked on a number of construction and glazing jobs around the country. Recently the MCC505 went to Alderley Edge in Cheshire to install shuttering into the basement of a new house where the owners will have their swimming pool.
Our Mini Crawler Cranes are available to hire from GGR Group's nationwide depots, for more information contact our team today.  Accredited CPCS A66 compact crane training for all our mini cranes is available at our Centre of Excellence facilities.
Trackback URL: https://www.ggrgroup.com/news/spot-the-difference/trackback/