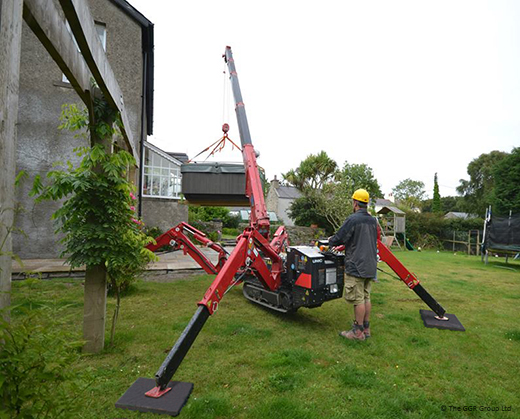 There's nothing better than a long hot soak in a bubble bath to de-stress, but when GGR's mini cranes and lifting solutions are used to install bath tubs and jacuzzis in tricky spots, the process is kept simple and stress-free!
This UNIC mini crane belongs to Manninwood, a building company based in the Isle of Man who specialise in making bespoke oak frames. However, their mini crane seems to be coming in very useful for lifting other more unusual loads too, like this jacuzzi for example.
The 2.9 tonne capacity UNIC URW-295 spider crane helped move a 400kg hot tub from where it was dropped off on the roadside round to the back of the house. UNIC mini cranes have often been used to install hot tubs in back gardens as their extremely compact size means that they can reach restricted access spots.
Take a look at more of Manninwood's Manx mini crane in action here.
Check out GGR's Geko 350 glazing robot lifting a more traditional type of tub in this Youtube clip.  GGR came up with this solution for a customer looking to find a safe way to lift heavy bath tubs out from stacks in their warehouse. The Geko's vacuum lifting head was able to attach itself onto the 150kg cast iron bath's smooth surface and move it from an upright position onto the floor.
UNIC mini cranes have also created a splash working on bigger swimming pool projects, find out more here.
Trackback URL: https://www.ggrgroup.com/news/rub-dub-dub-mini-crane-lifts-tub/trackback/