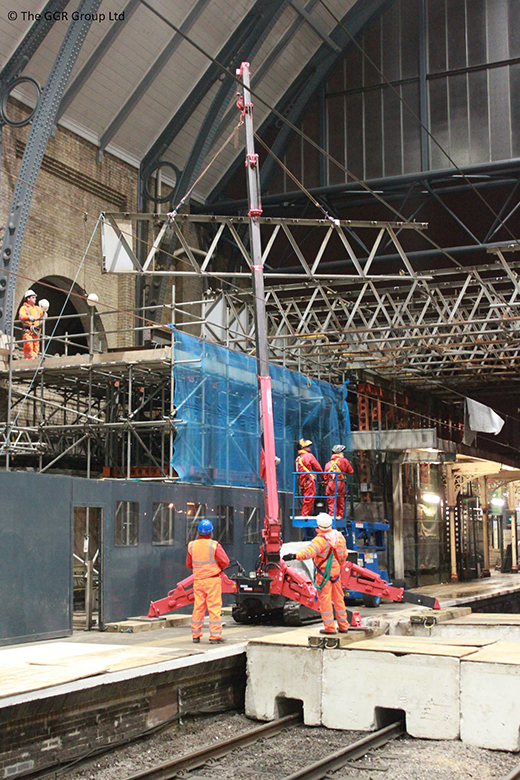 GGR Rail have had a successful few days at the Railtex 2013 exhibition this week, showing visitors how UNIC mini cranes can provide safer and more efficient solutions for lifting challenges such as this one in London's Kings Cross station.
Four UNIC URW-376 mini spider cranes were hired to tackle an 11 week lifting project at Kings Cross, carrying out carefully planned and complex lifts to remove the Northern Access Deck (NAD) step-by-step. UNIC mini cranes and GGR Rail's range of lifting equipment have full Network Rail Product Acceptance so are approved for working on everything from railway crossing inspections to electrification projects.
Spanning across platforms 1 to 11, the NAD was constructed in 2008 to provide access for re-roofing the station. To dismantle the NAD, UNIC mini cranes were used to lift the steel trusses and trestles down to the platform where they could be cut into smaller sections and taken away.
The 2.9 tonne capacity mini cranes took just 5 minutes to set up so the team of operators could make the most of the limited time they had, working in 4 hour overnight slots so not to disrupt the running of the station.  The cranes performed a series of tandem lifts to completely dismantle the deck, with a more powerful 6 tonne capacity UNIC URW-706 mini crane assisting with heavier steel pieces.
The tracked carriage and minimal dimensions of these cranes (just 1.3m wide when stowed), meant that they could be easily transported into the station and manoeuvred into position in very restricted access areas.
Thanks to their variable position outriggers, the cranes could straddle the station platform and a temporary Fillcore polybridge so they could access more hard-to-reach points of the NAD and work within the safe point loadings of the platform.
GGR's mini spider cranes have worked on a number of lifting projects in Kings Cross station during its makeover, including installing lifts, escalators, walkways and clocks on its platforms.
To find out more about GGR's work in the rail sector visit the GGR Rail website.
Trackback URL: https://www.ggrgroup.com/news/ggr-on-the-night-shift-at-kings-cross/trackback/