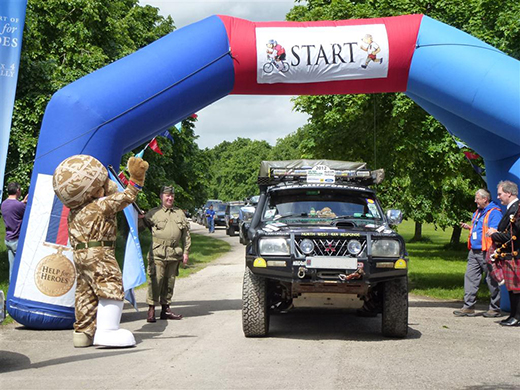 After supporting 2012's charity expedition, we're proud to announce that GGR Group has once again signed up to become an official event partner of the Help for Heroes 4×4 European Rally.
The 2013 rally tour will start in Wiltshire on 15th June and the 4×4 teams will travel over 2000 miles in just 12 days as they follow the route taken by Allied Forces during the 1944-45 European Invasion. Once again, GGR Group's logo will appear on all the team vehicles driven by military and ex-forces servicemen, their families and civilian supporters on their fundraising voyage.
The rally organisers kindly sent us a copy of this certificate that they received from the Help for Heroes charity founders congratulating them on raising £500,000 since the annual event started in 2010. Well done team!
Gill Riley, GGR's Managing Director says, "We're excited to be involved with the Help for Heroes rally again in 2013 and hopefully we can help make it their most successful event yet. As we have a number of ex-forces staff at GGR it is a charity which is very close to our hearts and we're proud to show our support for this worthy cause."
To donate or find out more about the Help for Heroes 4×4 European Rally visit their website, 'like' their Facebook page and follow them on Twitter. The 2013 event is now accepting applications if you would like get behind the wheel of a 4×4 and take part in this year's rally yourself.
Trackback URL: https://www.ggrgroup.com/news/ggr-backs-help-for-heroes-4x4-rally-2013/trackback/