A UNIC mini crane recently helped construct a giant wooden tree sculpture at Svět Techniky, The World of Technology museum in Ostrava, Czech Republic.
The UNIC URW-095 spider crane was hired from our official UNIC mini crane dealers in the Czech Republic, KMB Stavebni servis s.r.o.
The 0.995 tonne capacity compact crane was hired to build this treehouse exhibit which has a staircase inside so visitors can climb to the top. The model tree is part of the museum's Natural World exhibition which is about flora, fauna and the environment.
The mini crane was used to help construct the 9 metre tall tree's steel framework then the timber shell around it including large branches. A 700kg fly jib which increases the crane's maximum lifting height to 10.47 metres was used to install sections at the tree's highest point.
The 600mm wide mini crane was ideal for working in this enclosed space and moving around the tree to reach various installation points. The diesel powered crane was fitted with a Portable Scrubber to filter the crane's fumes in this indoor lifting location.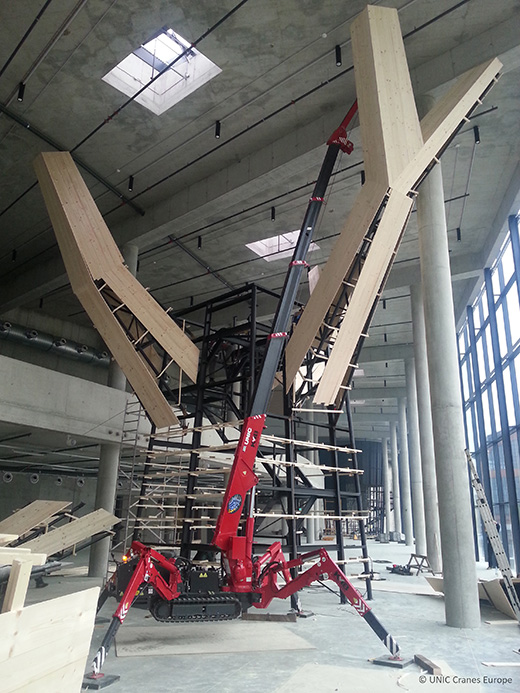 This interactive museum opened its doors to the public in September 2014 and is part of Ostrava's Science and Technology Centre in the industrial area of Lower Vítkovice.
Thanks to their compact size, UNIC mini cranes are often hired to install exhibits in museums and galleries, take a look at our gallery of recent jobs. Our miniature machines are also proven performers when it comes to lifting real-life trees, check out our landscaping work.
For more information about hiring or purchasing UNIC mini cranes in the UK please contact your nearest GGR Group depot, for international enquiries please contact your local UNIC mini crane dealer.
Trackback URL: https://www.ggrgroup.com/news/unic-mini-crane-builds-tree-exhibit-science-museum/trackback/