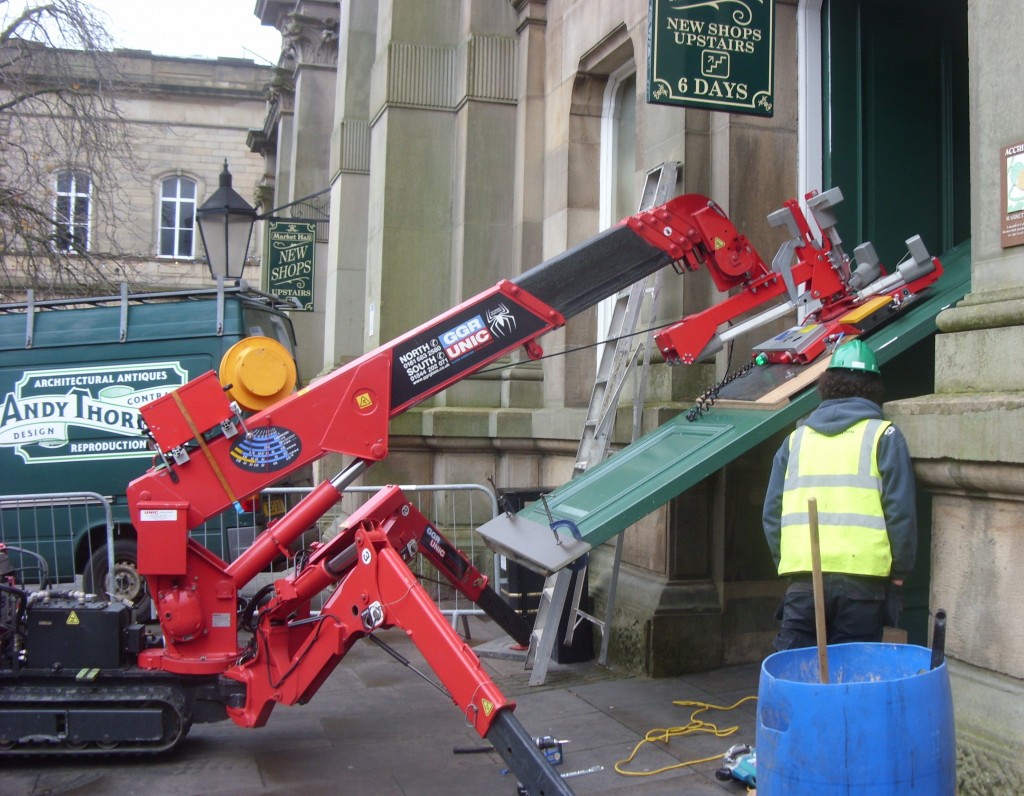 When the heavy doors to busy Accrington Market Hall needed a quick repair, GGR Group had the lifting equipment at hand to get the job finished in no time at all.
The Grade II listed market hall building in the Lancashire town centre was originally opened in 1869 but was refurbished in 2010, transforming it into an 'Enterprise Haven' to help local start-up businesses.
The bearings and runners on the market hall's heavyweight  doors needed replacing so a Unic mini crane and specially modified lifter were brought in to lift move the 250kg load.
A compact Unic URW-095 mini crane could easily get close enough to the door and fit its boom through the doorway with a GL-UMC600 Glass Manipulator unit attached to it. This particular crane model has also been a very popular choice for similar projects to renovate and restore listed buildings.
The 600kg capacity GL-UMC600 attachment, which is typically used for glazing projects, had been specially modified by the GGR technical team for the project. It was fitted with a special plate rather than its usual vacuum pads so it could lift and tilt the wooden door to remove it from the frame.
After the repairs on the door and frame were complete, the door was swiftly lifted back into position and was restored to perfect working order, ready to be used by the market visitors again.
Trackback URL: https://www.ggrgroup.com/news/unic-mini-crane-at-accrington-market/trackback/