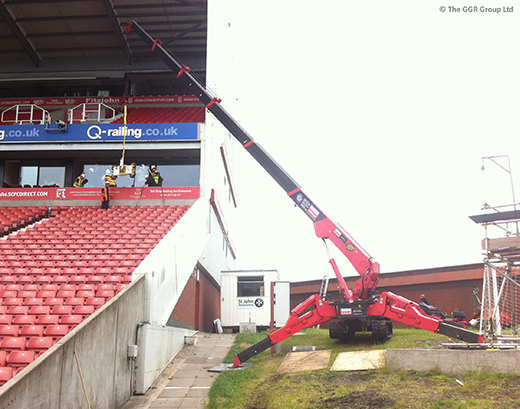 There were no red cards on this job, just a red crane from GGR to take on some tricky glazing at the home of Stoke City FC.
GGR's 6 tonne capacity UNIC URW-706 mini spider crane was hired at the home of The Potters to install glass windows into the corporate boxes. Entering the stadium through the ambulance access point, the mini crane was set up alongside the stand with its multi-positionable outriggers placed so the crane was stable on the sloping ground.
The UNIC URW-706 was used with a DSZ2 glass sucker to lift each 330kg glass unit from a stillage up 12 metres onto the boxes. With the crane working at a 10 metre radius, the 750kg capacity DSZ2 lifter carried each panel over the seating area, with guide ropes attached to hand cups on the load to help manoeuvre the glass into position.
No need for any half-time oranges, it took just one morning to install the four pieces of glass thanks to GGR's hard-working lifting team.  Britannia Stadium opened in 1997, costing almost £15 million to build and is now going further renovation to increase its capacity to 30,000 seats.
Forget "Bend it like Beckham", in this case it was "Lift it like GGR" to get this stadium ready for the first fixture of the new season!
GGR has put in many winning performances tackling glazing challenges at football stadiums around the UK, for example fitting glass for corporate boxes at Old Trafford and Brighton's AMEX stadium.
Trackback URL: https://www.ggrgroup.com/news/stokie-spider-cranes-are-pottering-around/trackback/