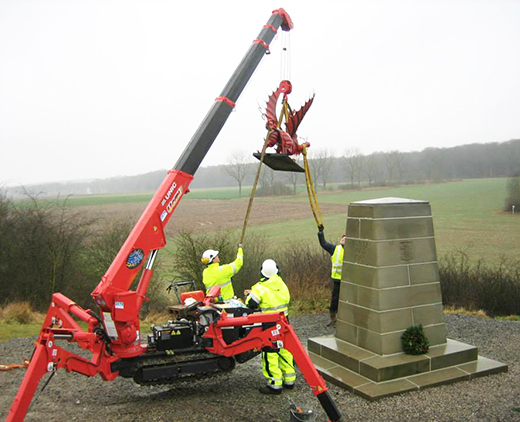 In honour of Saint David's Day tomorrow, here's how a miniature red spider crane helped lift a miniature red Welsh dragon at a war memorial in the village of Mametz in Picardy, France.
A 0.995 tonne capacity UNIC URW-095 mini spider crane was hired to lift the Welsh national emblem which is the centrepiece of the Mametz Wood memorial, a red dragon tearing at barbed wire. The memorial was built in 1987 in honour of the 4,000 soldiers in the 38th Welsh Division who were killed or wounded in the historic attack on Mametz Wood during the first Battle of the Somme in July 1916.
The mini crane was used as part of the Welsh government funded refurbishment project to get the memorial ready for the 100 year anniversary of the war in July 2014. The crane removed the 57kg dragon in December 2013 so it could be cleaned, repaired and repainted before lifting it back into place a few weeks ago.
Designed by Welsh sculptor David Peterson, the freshly painted metal dragon looks back to its best sat on top of the 3 metre tall sandstone plinth in the middle of the French countryside. To find out more about the Mametz Wood War Memorial visit the official Facebook page.
Mini cranes also been used to help install a World War II memorial at London Kings Cross Station and commemorative stone monument for Bomber Command on a cliff edge in Eastbourne.
Trackback URL: https://www.ggrgroup.com/news/refurbished-red-dragon-breathes-fire-back-war-memorial/trackback/