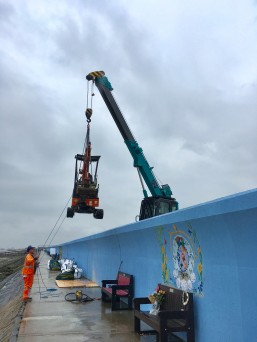 GGR Group recently commissioned an MCC500 mini crawler crane to lift an excavator machine over the sea wall on Canvey Island.
The mini crawler crane had the challenging job of lifting a 1.86 tonne excavator over a 710mm wide sea wall and lowered 2 metres to the ground.
Ideal for high level lifting work within restricted access areas, this mini crawler crane is capable of lifting to a maximum height of 16.5 metres with a compact width of just 2.3 metres.
Working alongside the sea wall, the crane had to travel along a pathway consisting of stones and concrete. Built with solid, rugged tracks, this mini machine is capable of working across all types of uneven ground.
The MCC500 mini crawler crane boasts a lifting capacity of up to an impressive 5 tonnes with a pick and carry capacity of up to 2 tonnes, making it the perfect mini crane for the job.
For more information on the MCC500 mini crawler crane, click here.
For general enquiries, contact GGR Group on 0161 683 2580 or email info@ggrgroup.com.
Trackback URL: https://www.ggrgroup.com/news/mini-crawler-crane-lifts-excavator/trackback/