A team of GGR's lifting experts were in the saddle at Chester Racecourse recently as three compact cranes completed a tricky staircase installation job.
A UNIC URW-706 mini spider crane, a G35 and a G70 pick and carry crane were hired to fit the large metal staircase onto the side of a railway bridge where access and space was limited at the oldest racecourse in Britain.
GGR's 6t capacity UNIC mini crane lifted a 4 tonne bridge section from the transport vehicle; the piece was then carried 228 metres by GGR's pick and carry cranes to the side of the railway bridge. The small chassis and 180 degree rear hydraulic steering of GGR's pick and carry cranes meant they could easily negotiate tight spaces and manoeuvre the large staircase through a 3.6 metre wide walkway to reach the surrounding ancient walls.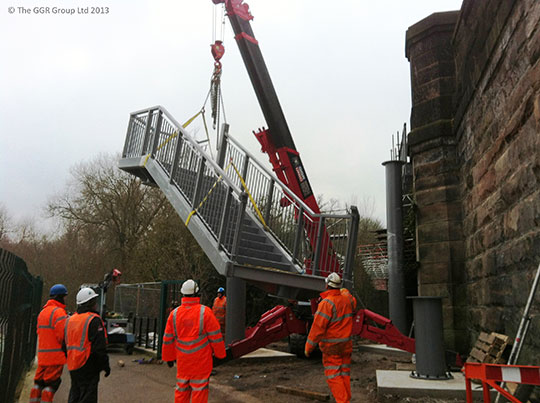 Once at the bridge, the UNIC URW-706 spider crane—which comes with a maximum 19.5m light height—easily  cleared the 8 metres lift needed to position the staircase. It wasn't long before all three sections of the staircase had been fitted together –there was definitely no horsing around on this job!
This isn't the first time that GGR's UNIC spider cranes and Galizia pick and carry cranes have teamed up to take on a complicated job – take a look at how three cranes joined forces to help build a swimming pool roof recently. Our compact cranes are also a popular choice for staircase installation jobs, read our case study here.
Trackback URL: https://www.ggrgroup.com/news/ggr-take-the-reins-at-chester-racecourse/trackback/