Now that Spring is here there's bound to be a few showers here and there before Summer arrives. Wet weather means that extra precautions need to be taken when lifting using vacuum-powered handling equipment. We advise that you should avoid operating vacuum lifting equipment in the rain, this includes our glass and cladding vacuum lifters and glazing robots.
It is essential to keep your vacuum lifting equipment dry as water can cause serious damage to internal components. These pieces of kit should not be exposed to heavy rain, left outside for prolonged periods in wet weather uncovered or submerged in water. If water reaches the machine's electrical components it could cause damage to the lifter and make it unsafe to use.
Before attempting a lift you should always ensure that both the suction pads and load are dry and clean. Any water or dirt that is left on the load surface reduces the lifter's effectiveness and resistance to slippage, potentially causing the load to fall. Remove any residual moisture on your load using a squeegee or absorbent chamois cloth before using your vacuum lifter.
To help counteract the risk of slippage, it's important to regularly inspect the vacuum pads on your lifting machine. Read our blog to find out how to check that they are in good condition.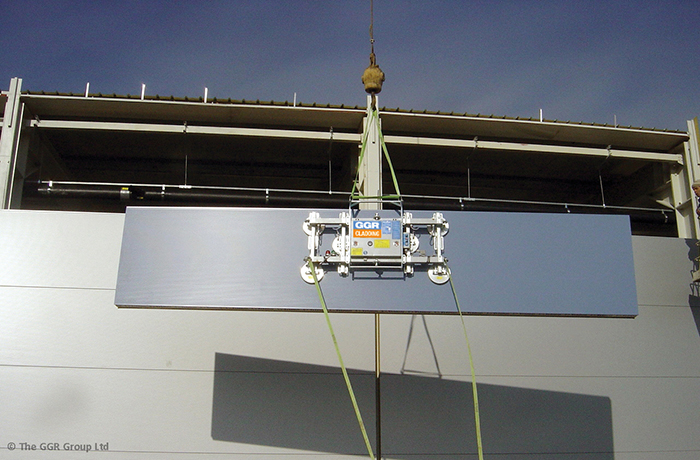 The reason for ensuring that your load and suction pads are clean and dry is not only to prevent slippage but also very importantly to prevent any water, dirt or grit from being sucked into the components of the machine during vacuum application. Any water or debris in the machine can cause valves to leak and general corrosion in the system. If any water ends up in the lifter's vacuum reserve tanks, this will reduce the tanks capacity and the lifter's safety factor for supporting the load.
Water can damage your lifter even further in below freezing conditions, this is why we recommend that vacuum lifters should only be used in temperatures above 0°C. Water expands when it freezes and turns to ice, so any moisture in the lifter's internal system could potentially block airflows, break a vacuum seal or damage the machine's electric motors.
Read our winter weather safety guide to find out more about how to lift safely in windy and cold conditions. If you are concerned about lifting in poor weather then we suggest that you speak to your site's Health and Safety officer.
For further technical advice about how weather conditions can affect our lifting equipment, contact us on 0161 683 2580 or email help@ggrgroup.com
Trackback URL: https://www.ggrgroup.com/news/ggr-safety-guide-working-rain/trackback/