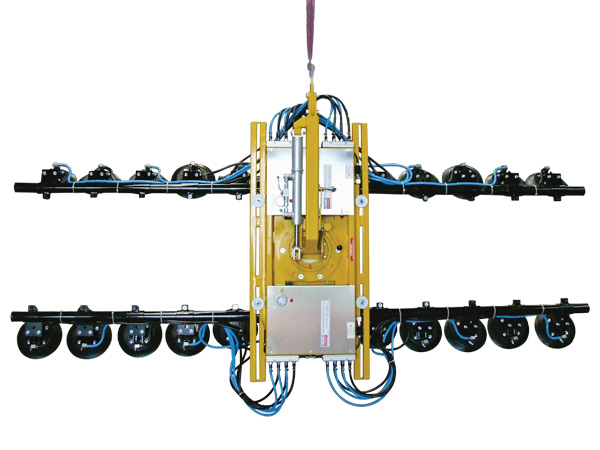 Back in Winter 2013 GGR's glazing suckers and mini cranes helped to build the new Cefn Castell in Wales. The project was featured on Channel 4's Grand Designs programme and last week won an LABC Building Excellence award. Well done to the team on winning the award and here is a reminder of the project…
In the place of a 400 year old farmhouse in Criccieth, Gwynedd, Rob Hodgson and Kay Ralph wanted to create a new Cefn Castell on a clifftop which would give them some amazing panoramic views of the sea and National Trust beach below.  Despite being told by erosion specialists that their dream home may disappear off the crumbling cliff in as little as 60 years, Rob and Kay took on the roles of project managers and started to build their beach house inspired home.
Watch a clip of the episode:
[youtube]https://youtu.be/grsuD2mEOJ0[/youtube]
GGR's 6 tonne capacity UNIC URW-706 mini crane and an operator were hired to assist with the glazing work around the site. It was important that equipment used on the site should be as compact and lightweight as possible as wear and tear on the ground over the course of the project may weaken the clifftop. Another issue for larger plant was that the only access to the site was a track that ran underneath a 3.6 metre high railway bridge which our mini crane had no problem getting under.
Building in such an exposed location meant that the structure needed to be extremely robust to handle the 100 mph winds, so triple glazed, reinforced insulated glass was chosen for this project to protect against the elements. The mini crane spent two days on site installing the expensive glass to two levels, using 750kg DSZ2 glazing suckers to lift 3.6 metre tall units weighing up to 500kg. Although not shown on the programme, a Glassmax hoist was also hired from to install rooflights.
Despite the usual dose of Grand Designs drama (including big chunks of the cliff being swept away by a rough storm!), the finished result was amazing and the glazing created spectacular views of the coastline. Another TV appearance from GGR and another great episode of one of our favourite programmes!
Why not get in touch with GGR's friendly team of experts to find out how we can help you to bring your own grand design to life!
Trackback URL: https://www.ggrgroup.com/news/ggr-glazing-suckers-grand-designs/trackback/