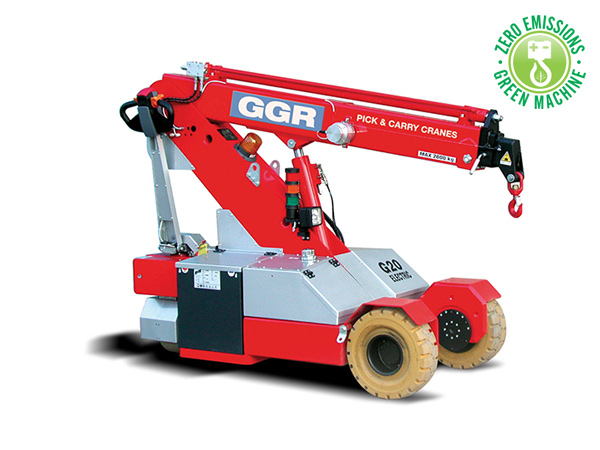 GGR's smallest pick and carry crane showed that it had the perfect qualifications for indoor lifting at Goldsmiths College, University of London recently. The compact crane was hired to work in the Richard Hoggart Building, installing heavy glass units to the college's internal corridor arches.
The G20 battery powered compact crane was ideal for working safely in the college's narrow corridors. At just 935mm wide, the 2 tonne capacity G20 could easily manoeuvre around the limited space available to position each large glass panel into the corridor's archways, carefully avoiding low hanging light fixtures.
This particular building was originally The Royal Naval School, attended by the sons of naval officers before Goldsmiths College was established in 1904.
GGR's pick and carry crane installed 6 panels in total, each weighing 400kg and standing at over 3 metres tall. A Hydraulica 1000-A vacuum lifter was hired to install the switchable glazing which is cleverly designed to switch from transparent to opaque at the touch of a button. GGR's 1000kg capacity dual circuit lifter was chosen thanks to its powered tilt and lockable rotation functions for accurately positioning large and heavy units ready for installation.
GGR's compact lifting kit is often used for glazing and construction work both inside and outside schools, colleges and universities around the country. Take a look at a UNIC URW-506 crane reglazing a Stoke school, a UNIC URW-095 fitting façade panels to a Liverpool university and a Oscar 600 robot fitting new panels to a University of Salford building.
Trackback URL: https://www.ggrgroup.com/news/ggr-are-as-good-as-gold-at-goldsmiths-college/trackback/