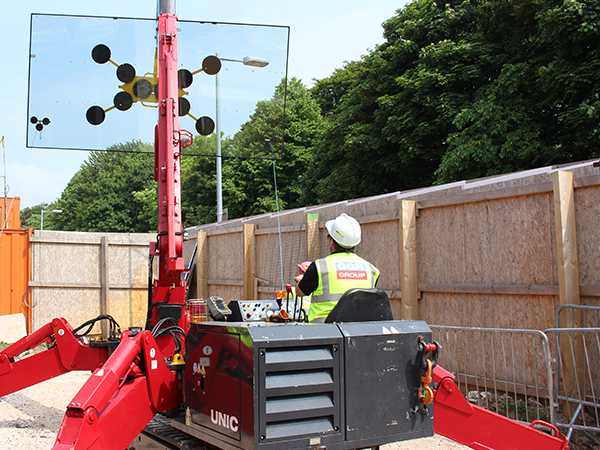 GGR'S UNIC 506 spider crane chose 'glass lifting' as its specialist subject on a real-life university challenge recently!
It hooked up with the DSZ2 Hydraulic Tilt vacuum lifter to six large units, weighing over 450 kg each, as well as two units above door openings, on the new building in north England.
Despite working in a tight spot on a busy site, the mighty duo made light work of the units, lifting them off their stillages, over site hoardings before rotating them into place.
Capable of lifting 3 tonnes to a height of 3.4 m, or up to 4 tonnes with an optional 5 fall hook block, the URW-506 gives more capacity and better choice for your lifting needs. This mini crane can still fit through a double doorway but can also be disassembled and rebuilt in confined or remote locations using the crane's own winch.
Perfect for lifting between scaffold and building envelope, the slender DSZ2 vacuum lifter is only 180mm deep yet offers up to 750kg of lifting power. As one of our slimmest vacuum lifters, the DSZ2 has once again proven to be a popular choice when lifting units in a restricted space.
Trackback URL: https://www.ggrgroup.com/news/25855/trackback/