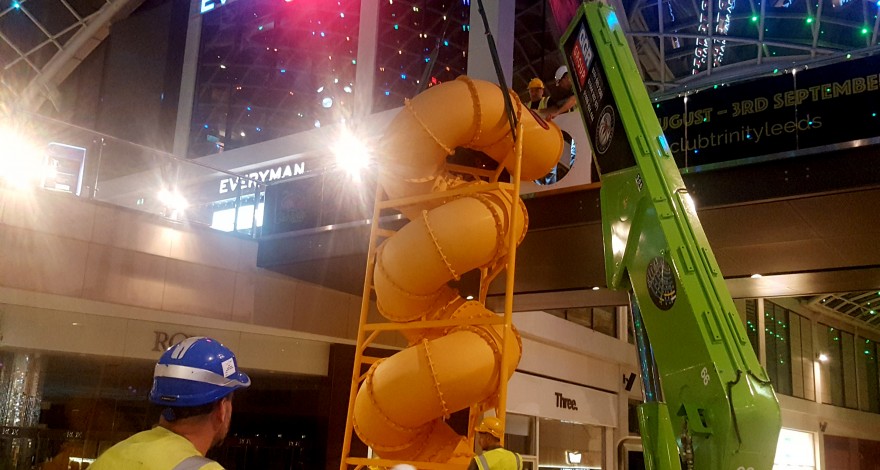 GGR recently had the chance to show off some impressive lifting skills, whilst bringing a touch of fun to the Trinity Shopping Centre in Leeds. A URW-506 mini spider crane was commissioned to install a giant slide in the heart of the centres shopping area and eateries.
With a capacity of 3 tonnes and a maximum lifting height of 16 metres, the UNIC URW-506 was more than capable of lifting this structure weighing in at 1000kg.
The preassembled slide was delivered to site on its side, before being lifted upright and manoeuvred into its install position onto the pre-installed fixing points.
Graeme Riley, CEO of GGR Group said "it's great to get involved with projects of this nature as it allows GGR Group to really showcase the versatility of our UNIC mini spider cranes. Not only are they compact enough to work in the most confined and restricted areas but they have a significant lifting capacity, enabling us to comfortably carry out projects of this kind".
The UNIC URW-506 delivers a generous 16m maximum lifting height meaning it was easily able to lift and place this 6.1 metre structure into place with precision. These mini spider cranes are small and compact enough to fit through standard double doors, making it the perfect option for tracking in and out of the shopping centres entrances and exits". The versatility of this mini crane means that it can also be disassembled and rebuilt in confined or remote locations using the crane's own winch.
 The URW-506 also includes radio remote control and a safe load indicator that enables the operator to set a working area limitation for better control in sensitive environments. The Lift-Smart Advanced Safety System also includes overwinding alarm, computer controlled intelligent voice warning system, intelligent throttle activation and audio-visual warning device
Trackback URL: https://www.ggrgroup.com/news/unic-urw-506-slides-into-place/trackback/