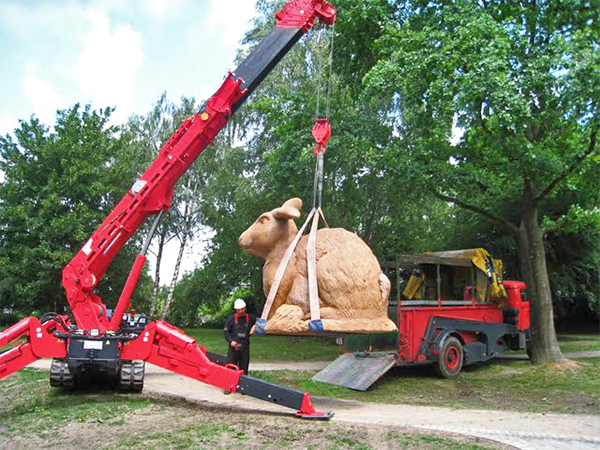 Over the years UNIC mini cranes must have lifted millions of glass windows, countless cladding panels and numerous steel beams, but we think this might be the first time that a spider crane has lifted a giant rabbit!
But this wasn't a hare-brained scheme, a UNIC URW-706  hired from rental company Baumo Kranservice was specially chosen to safely install this rabbit sculpture at a park in Germany.
The 6 tonne capacity mini crane model was hired for this unusual project to move the 4.5 tonne bunny (or "Hasi" in German) from the transport lorry onto a smaller truck which could travel through the park. The crane then lifted the rabbit off that truck into its final position in a sand pit.
The UNIC spider crane provided a safe and simple solution for this job, meaning that the customer was left a happy bunny rather than hopping mad!
GGR's compact cranes have been hired to lift all creatures great and small (not real of course!) including a model elephant at Stratford Armouries Museum, a dinosaur at Prague's DinoPark, a dog statue and a steel sculpture of a horse.
For more information about how UNIC mini cranes can help you with your weird and wonderful lifting projects contact us today.
[nggallery id=318]
Trackback URL: https://www.ggrgroup.com/news/unic-mini-crane-lifts-giant-rabbit/trackback/