As official UK dealers for Woods Powr-Grip hand cups and vacuum lifters, we were interested to hear the story of how a simple invention by the company's founder turned into a worldwide success.
In the early 60s, Howard Wood developed the first Woods Powr-Grip product in his workshop in Wolf Point, Montana. To make it easier to handle small engine valves during the lapping process, Howard invented the Valve Grinder, a suction cup with a vacuum pump inside a wooden handle.
Once word spread and demand grew for this innovative tool, Howard started to sell his first invention. This practical and effective product has stood the test of time and is still part of Woods product range today.
After the Valve Grinder's success, Howard started to develop a glass handling vacuum cup around the same design. With handmade steel handles, rubber suction cups and featuring unique red-line vacuum loss indicators, the first Woods Powr-Grip hand cups were created.
Howard opened Wood's Auto Electric repair shop in 1964 and started producing the vacuum cups as part of his business. Patented in 1966, the hand cups then started to be sold to glass and glazing companies across the United States
In the following few years, Howard took the idea of using vacuums to lift glass to a larger scale. He created a foam sealed, battery powered, below-the-hook vacuum lifter which could lift 270kg. Here's a photo of the early vacuum lifter prototype performing a test lift on a car.
Since then the Woods Powr-Grip business has gone from strength to strength, continuing to develop new vacuum powered lifting and mounting products based on Howard's original creations. Howard died in 1983 and now the company is run by the third generation of the Woods family from their offices in Laurel, Montana.
Some of GGR's most popular pieces of equipment are Woods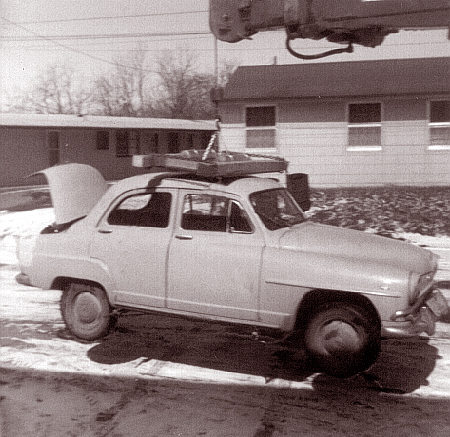 Powr-Grip machines such as the MRT4, P11104 Four in Line and MRTA6 glass vacuum lifters and the MT5 and MRTA8 stone lifters.
GGR Group has recently launched a brand new GGR Glass website where Woods Powr-Grip hand cups and mounting products are available to buy online.
Trackback URL: https://www.ggrgroup.com/news/the-history-of-woods-powr-grip/trackback/