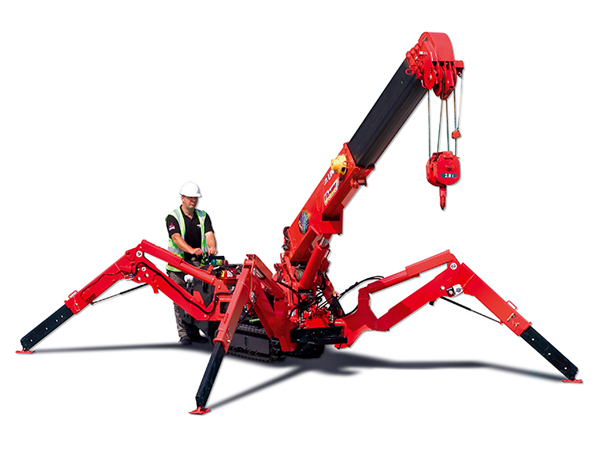 GGR's experienced crane operators and engineers never 'go to pieces' on a challenging job, but sometimes our cranes do just that—to reach particularly tricky lifting locations.
Several of GGR's UNIC mini spider cranes worked on multiple floors installing large stone tiles and glass units at Trinity House in Nottingham. Home to energy giant E.ON's customer services team, Trinity House is the greenest office space in Nottingham with an excellent BREEAM accreditation.
As the building's internal lift only goes to level 8, a mobile crane was used to lift a UNIC URW-095 mini crane onto the building's rooftop, level 9. However, when another mini crane was required to work on the 33 metre high roof, the URW-095 was used to lift a UNIC URW-295 model to avoid any further road closures and disruption. Dismantled into sections, the UNIC URW-295 was lifted piece by piece from level 8 to the rooftop where it was then rebuilt.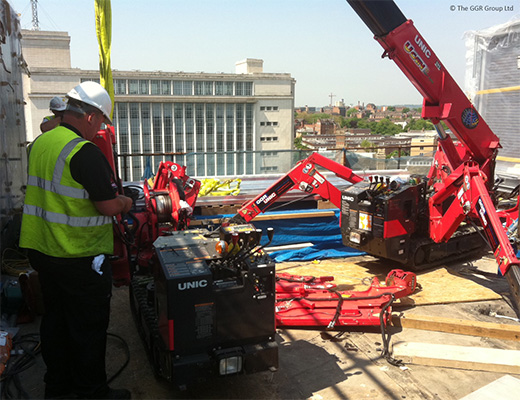 GGR's mini cranes are often used for glazing and installation work on multiple levels of large buildings to free up tower crane possession and speed up a project. This was the case when a dismantled UNIC URW-706 crane was lifted to the top of the Shard to complete glazing work to a tight schedule.  A UNIC URW-706 crane was also dismantled and transported by helicopter to reach the pinnacle of Mount Jungfraujoch.
Take a look at more examples of how our cranes and dismantled and rebuilt in our gallery. To find out more about how UNIC mini cranes can reach the most restricted access areas of your site then contact our customer services team at your closest depot.
Trackback URL: https://www.ggrgroup.com/news/spider-crane-rebuilds-rooftop/trackback/