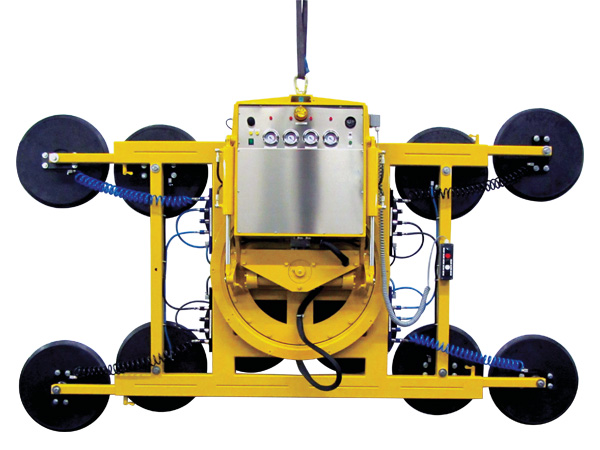 In the case of the latest glass vacuum lifter to come through the doors of GGR's Oldham depot, bigger is definitely better!
To demonstrate the scale of this mighty machine, here's Kerry from our marketing department (5 feet 5 inches tall without her hard hat) stood next to our brand new lifter.
The Hydraulica 2600 Quad-Circuit Compact lifter is the new giant in GGR's vacuum lifter range, with more power than any other model and four independent vacuum circuits for extra safety when lifting.  Able to lift heavy 2600kg glass units, this high capacity glass sucker can easily manipulate the largest panels into position for installation with 210° powered rotation and 90° hydraulic tilt functions for ultimate control.
Now available for hire and sale, this mammoth lifter features 14 oversized 520mm diameter vacuum pads which help achieve suction for lifting quicker in comparison to the standard 330mm pads. With sliding extension arms, the Hydraulica 2600's frame can be extended to span a massive 5 metres for handling larger loads.
We're always adding the latest in vacuum lifting technology to our growing range of glass suckers so that we can offer a solution for the most challenging glazing tasks. Take a look at the other lifters we've added to our hire fleet in 2013 – Kombi 7441-Quadra, Hydraulica 900-C Curved Lifter, Hydraulica 1000B, 1200B and 2000B.
Contact our team today for help with choosing the right lifter for your job.
Trackback URL: https://www.ggrgroup.com/news/its-huge-new-hydraulica-2600-quad-circuit-vacuum-lifter/trackback/