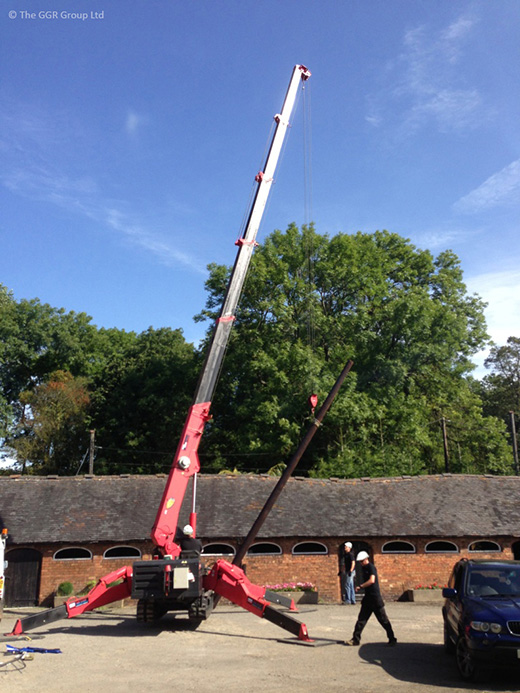 One of GGR's UNIC mini cranes headed out to Arbury Hall in Nuneaton, Warwickshire recently to replace an old wooden power line pole on the grounds of this stately home.
Elizabethan manor Arbury Hall was built on the ruins of a 12th century Augustinian Priory and has been the home of the Newdigate family for over 400 years. The UNIC URW-706 mini crane spent a day working at a barn situated on the 100 acres of land which surrounds the mansion.
GGR's mini cranes have worked on the Arbury estate before, helping to renovate the 13th Century Astley Castle manor house.
After the power supply was isolated from the area, a UNIC URW-706 was hired to remove and replace a 8.5 metre long power line pole which was awkwardly placed behind a barn where access was extremely limited. Working at a 12 metre radius, the mini crane first slung the 200kg replacement pole, carried it over the barn rooftop and positioned it next to the old pole ready to be installed in its place. The sling was then transferred onto old pole to lift it out and back over the rooftop.
Thanks to the compact size and working area limitation function of the 6 tonne capacity UNIC URW-706 crane it was able to work in the small yard area and not interfere with the nearby telephone wires.
UNIC mini cranes are a popular choice for handling heavy and lengthy poles for power and telecommunications projects. A UNIC URW-376 used with a man basket helped remove this telephone pole in Saddleworth and a UNIC URW-706 worked in Welsh woods to decommission this mobile phone mast.
Trackback URL: https://www.ggrgroup.com/news/ggrs-spider-crane-lords-country-manor/trackback/