As well as installing steelwork, glazing, curtain walling and cladding, GGR's versatile compact cranes can also provide lifting power at earlier stages of construction projects where shuttering needs to be installed to mould wet concrete.
Formwork, commonly called shuttering, is the temporary moulds to hold poured wet concrete in shape while it sets (or "cures"). Usually these moulds are made from braced timber or are prefabricated units with a metal frame. Once the concrete has hardened, the formwork is removed ("stripped" or "struck") to expose the finished material.
GGR's UNIC mini spider cranes have been used to lift formwork for a range of construction projects in the UK. This UNIC URW-506 spider crane was hired to lift steel column shuttering weighing 1.5 tonnes at the National Exhibition Centre in Birmingham.
A smaller UNIC URW-295 mini crane was used to lift formwork sections in this restricted access London Underground railway station. UNIC cranes able to move around hard to reach and congested sites with ease, providing lifting power in restricted spaces where there may be a lot of obstacles to work around.
This 6 tonne capacity UNIC URW-706 mini crane lifted 10.8 metre long, 2.8 tonne PERI shuttering panels to help construct a new office building in London. The machine was able to work in the limited space available in between two existing buildings.
A UNIC URW-376 spider crane was hired to install shuttering for a new build home in Hertfordshire. Thanks to its lightweight chassis, this mini machine could be lifted down to the basement level by a mobile to lift the formwork sections.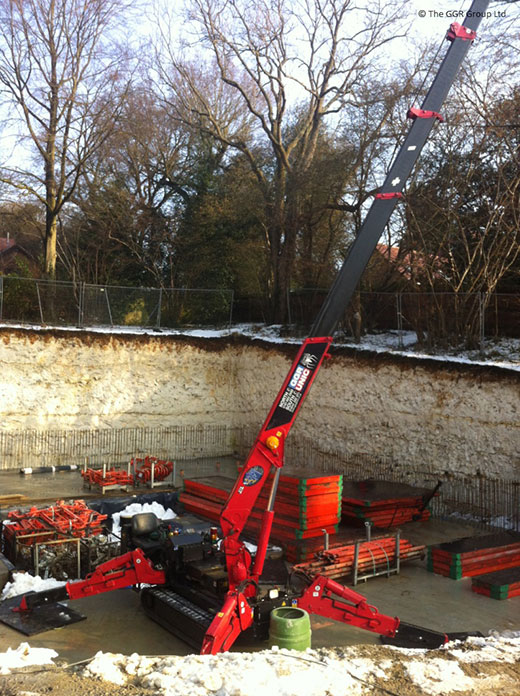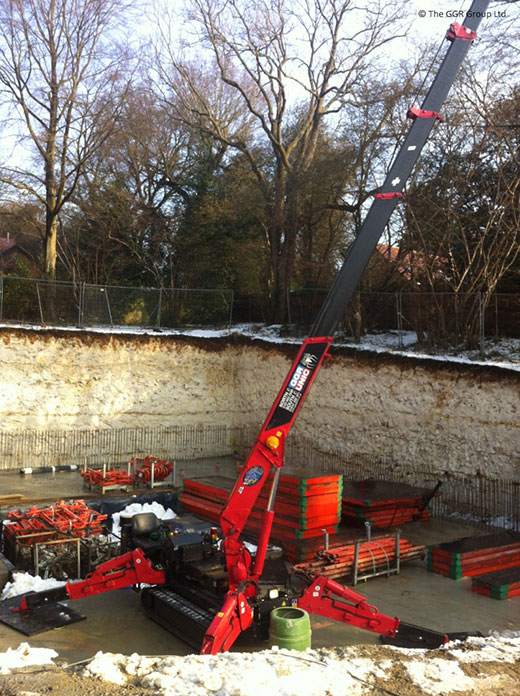 If you would like to find out more about how GGR's range of compact cranes can be used for a variety of lifting operations on construction projects, please contact our customer services team at your nearest GGR depot.
Trackback URL: https://www.ggrgroup.com/news/ggrs-cranes-show-great-form-installing-shuttering/trackback/