GGR Group played its part in ensuring the Battle of The Somme commemorations were a success.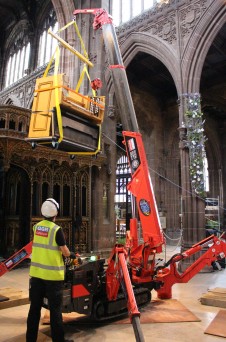 We were tasked with lifting an organ, used in the official service at Manchester Cathedral, into place on a raised balcony at the historic building.
The service, part of the Somme centenary, took place on Saturday, July 2, and was attended by around 1,000 guests and dignitaries. These included Prince Andrew and the Chancellor of the Exchequer.
After the service, we were also on hand to lower the organ back down onto the ground level where it could then be transported to another destination.
To compete these lifts, we used our mini yet mighty UNIC URW 095 spider crane. It was tracked through the Victoria Street building's entrance on sheets of plywood, to ensure the marble floor was protected. Once inside, the urw-095 got to work, using a spreader beam and slings to ensure that the organ and its associated speakers, were lifted securely into place.
The ultimate machine for lifting in confined spaces, the URW-095 can truly access all areas thanks to its slender 600mm width and lightweight frame. Boasting nearly one tonne of lifting power and an unrivalled lifting height of up to 8.8m, the UNIC URW-095 is one of the most popular mini cranes in the industry.
Trackback URL: https://www.ggrgroup.com/news/ggr-groups-095-spider-crane-lifts-organ-used-in-somme-centenary-service/trackback/