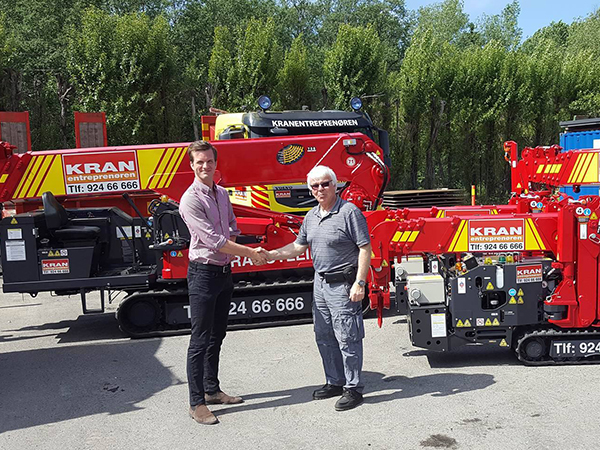 Four of our UNIC spider cranes are being put to work in Norway. Local spider crane rentals company Kranentreprenøren, based outside Oslo, has  now added two of our URW 295s, one URW 547 and a URW 706 to its fleet.
The deal was sealed at the world's largest trade show, Bauma, recently by our dealer in Norway, Knutsen Maskin AS.
All new cranes are equipped with diesel engines, 400v system for dual power and radio remote control. The two bigger machines are also equipped with working area limiter for the slewing. This is a big safety feature for working inside power plants.
Anders Kiel,  of Knutsen Maskin, said: "It's delightful to see Odd Moen, general manager at Kranentreprenøren, coming back buying four additional cranes only one year after he bought a URW 547.  For us this is a proof that we are working in the right direction. Both the cranes and the market for mini cranes in Norway are getting better and better."
UNIC Cranes Europe, as part of the GGR Group, offers a complete range of UNIC cranes to dealers throughout Europe and the United Arab Emirates.
The group was established in 1995 by brother and sister team Graeme and Gill Riley, who now hold the posts of chief executive and managing director respectively. From small beginnings, the company employs over 100 people across three UK sites; its headquarters in Oldham, near Manchester; Long Crendon in Buckinghamshire and at Blantyre in Scotland.
Trackback URL: https://www.ggrgroup.com/news/four-spider-cranes-sold-in-norway/trackback/