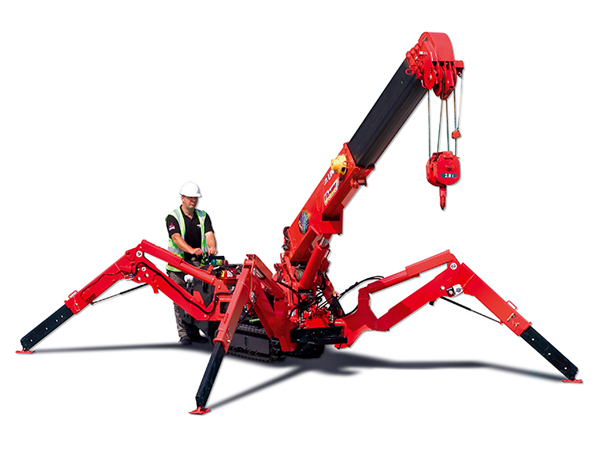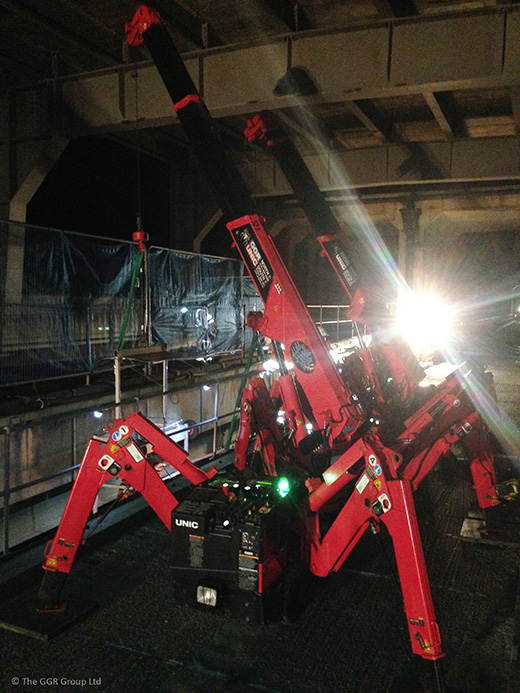 These two UNIC mini cranes looked like the mirror image of each other when they were working together in this restricted space on a bridge. A pair of UNIC URW-295 mini cranes were hired to remove over 600 metres of pipe on a bridge in North Wales.
One spider crane was used to lift a one man work basket down a 1.5 metre gap over the side of a set of railings. The man basket was positioned so personnel could cut the pipework into 5 metre long sections ready to be lifted out.  When lifting a person in a man basket, the crane's capacity is always reduced by 50% for an added safety factor.
The second URW-295 mini crane helped to remove these sections which weighed around 370kg each, lifting them back over to the other side of the railings. The cranesworked to a 4 metre maximum hook height underneath a 6.2 metre high ceiling.
The compact dimensions of the UNIC URW-295 made it suitable for work in this very limited space, GGR's cranes and operators had just a 3 metre wide area to work in.
UNIC spider cranes can also be used to install pipework, for example when this UNIC URW-095 mini crane worked at a sewage treatment works. GGR also stock a range of lifting accessories for lifting pipes, such as the Easy Pipe Clamp and the Pipe Transporter trolley.
To find out more about our range of UNIC mini cranes for hire and purchase please get in touch with our customer services team at your nearest GGR depot.
Trackback URL: https://www.ggrgroup.com/news/double-unic-mini-crane-power-removing-bridge-pipework/trackback/