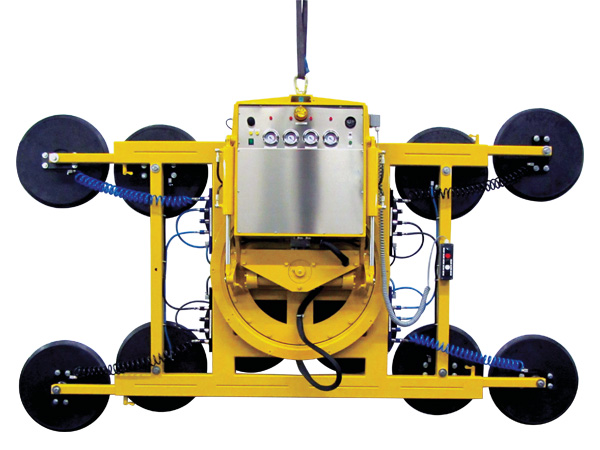 The architectural trend for mammoth glass units, offering seamless light into buildings has started to gain momentum here in the UK, as seen in this recent central London building project.  These giant glass panels required GGR Group's brand new heavy-duty vacuum lifter—the Hydraulica 2600—to lift, rotate and install the oversized units safely into the building.
The Hydraulica 2600 Quad-Circuit Compact is GGR's most powerful vacuum lifter, with a 2600kg capacity and huge 520mm diameter suction pads on its lifting frame which can be extended up to 5 metres wide.
Attached to a UNIC URW-706 mini spider crane working at a 5 metre radius, the Hydraulica 2600 lifted each of the 7 metres tall by 3 metres wide glass units which weighed a massive 2100kg each.
Exclusively available to hire and buy from GGR, glass vacuum lifters with quad-circuit technology provide additional security when handling larger and heavier loads. The Hydraulica 2600 features four independent vacuum systems as well as dual ram cylinders for its powered tilt and rotate functions.
Take a look at GGR's other quad-circuit lifting machine, the 1125kg capacity Kombi 7441-Quadra.
Trackback URL: https://www.ggrgroup.com/news/bigger-and-better-lifting-power-from-ggrs-quad-circuit-lifter/trackback/